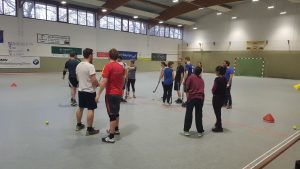 It is never too late to learn something new. Or at least to try and have fun in the process.
This is the line of thinking that led us to send out an unusual request to the BTHV Club: to host a double birthday celebration in their premises in the shape of a hockey iniciation.
You may think that providing wooden sticks and heavy balls to a bunch of people in their late twenties and early thirties, whose knowledge and skills of hockey varied from non-existent to "oh yes, I had a class once at school ten years ago", is calling for disaster. However, that is underestimating human learning capacities. No, I´m just kidding, we just had terrific coaches (and prudential fear of the sticks). Thanks to Gerrick and Kaya.
Our iniciation started with the very basics into the sport: how to hold the sticks, how to stand, etc., followed by a few warm-up exercises to get comfortable giving passes and controling the ball. Before we knew it, we were dribbling and Shooting to the goal. At the end of an hour-long intensive training, we were able to play a mini tournament of three teams. Not only the game was reasonably good (to our standards), but it was also incredibly fun! In a couple hours we passed from being complete beginners to… less so. I have nothing but praises about the friendliness and support of the BTHV Team we met. There is no doubt they are passionate about what they do, which is very contagious. So if you are looking for ideas of a different birthday celebration, do consider a game of hockey. And who knows? Maybe there are natural talents and you´ll find the next hockey star among the lot.
Of course, as now qualified hockey players we adjusted to the hockey culture fast – with some (and more) drinks at the world famous BTHV-bar.
Thanks again to all the team!
Mar Moure
Mexican Uni-Bonn master student